AWE Gallery presents: Non Sequitur: 5 women; 6 perspectives
October 4 through October 26
Awe collective artists (Stacy Boorn, Kit Kennedy, Chris Kibre, Alice Steele, Janet Stock) explore the non sequitur (Latin for it does not follow) in a playful, collaborative show. Each artist put forth an image or word challenge to which the others responded. In the spirit of the non sequitur, we hope to invite conversation, humor, and intrigue.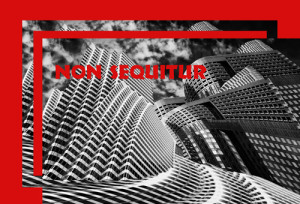 Artists' Reception: Sunday, October 5. Noon – 5:00 PM refreshments, music and conversation with the artists.
Audience collaboration:   Saturday, October 18. 1:00 – 3 PM. An open easel/mic/floor for you to express yourself as the 6th perspective for one of the non sequitur groups. Each participant will have about 5 minutes (to show art or recite poetry, perform music or dance) and explain why her/his work fits into one of the non sequitur exhibits.
Saturday, October 25 from 1:00 – 3:00 PM the AWE Ekphrastic Poetry Collective will present poems written for this show and treasures from their "storehouses" of words and wonder.  The group will also include Non Sequitur flute music.  Come for all or part of the time.  Wine/waters and finger foods provided.